Sejlperioden er april-september. Du kan ikke booke miljøkajakken uden for denne periode.
The season is April-September. You can not book the The Green Kayak outside this period.
Hvor kan jeg finde Miljøkajakken Sluseholmen?
Where can I find The Green Kayak Sluseholmen?
Sluseholmen 31, 2450 København SV, lige over for Ricos kaffebar/Just opposite Ricos Coffee Shop (ved Søspejdernes Havets Heltes flydebro).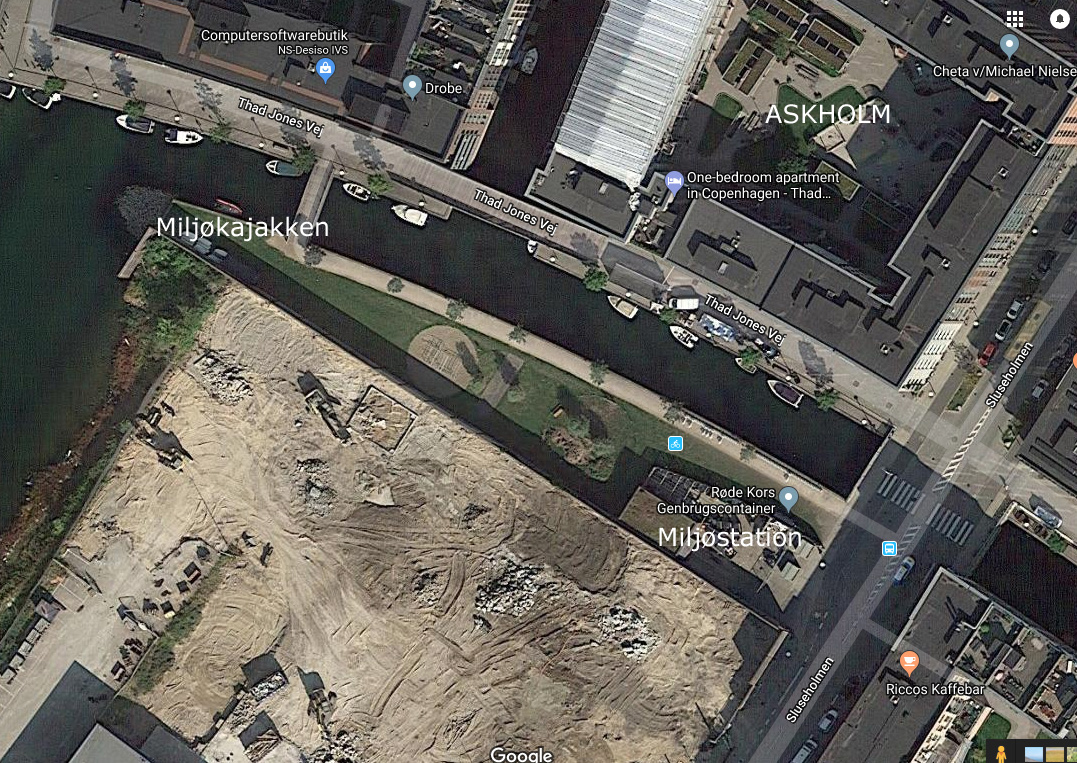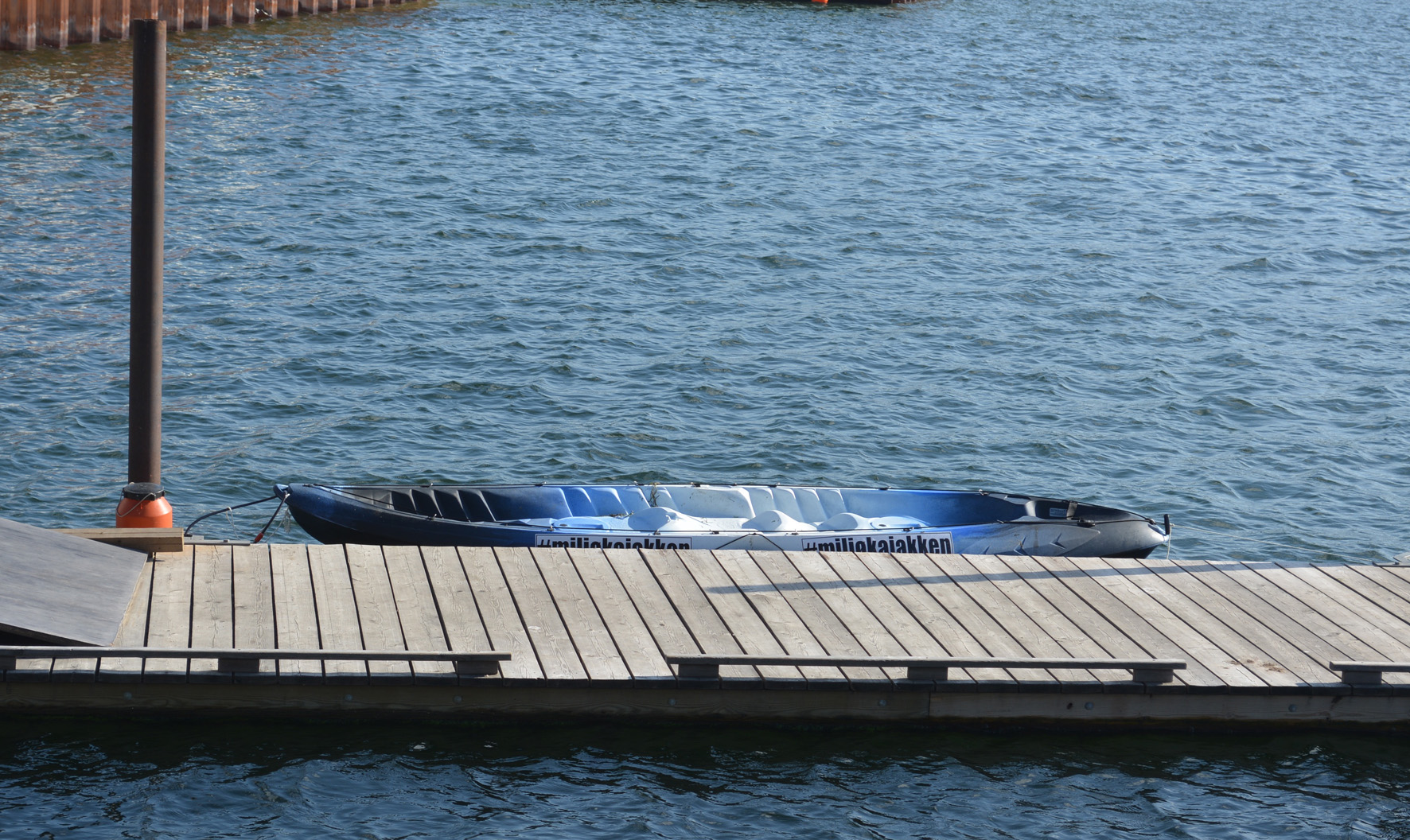 Miljøkajakken er lukket for i år. Starter først til 1. april 2019.
VILKÅR OG BETINGELSER
Reservering og betaling
For at reservere Miljøkajakken skal du indbetale DKK 300.00 i depositum via MobilePay til telefon 23 43 50 40 samme dag, hvor du reserverer kajakken, hvis der ikke er foretaget indbetaling af depositum, vil din reservation blive slettet.
Overholder du betingelserne om affaldsindsamling m.m. vil beløbet blive tilbageført din MobilePay-konto efter turen. Det er vigtigt, at det telefonnummer, som du opgiver, knytter sig til MobilePay-konto, som beløbet skal refunderes til.
Har du ikke samlet affald på turen, vil dit depositum på kr. 300 blive betragtet som et økonomisk bidrag til miljøkajakkens fortsatte virksomhed.
Afbestilling
Får du ikke brug for reservationen, så husk, at afbestilling skal ske senest 24 timer, før din reservation træder i kraft for, at du kan få tilbagebetalt dit depositum.
Vi håber også, at du vil udbrede kendskabet til Miljøkajakken Sluseholmen ved fotos eller videoklip, som kan uploade direkte til sociale medier på #miljøkajakken.
Vægt
Spørgsmålet har betydning for valg af sikkerhedsveste til børn og voksne. Du skal angive vægten for hver person. Ikke den samlede vægt eller f.eks. 2 voksne.
Tider
Tiderne ligger fordelt på følgende tidspunkter: 08.00-10.00, 10.00-12.00, 12.00-14.00, 14.00-16.00, 16.00-18.00 og 18.00-20.00.
Bemærk, at selv om datoen viser rødt for reserveret eller gult på grund af, at der afventes bekræftelse, så kan der godt være andre tidspunkter den pågældende dag, som er ledige. Hvis du trykker på datoen, vil du kunne se, hvilke tidspunkter, som allerede er booket den pågældende dag.
Sejlperiode
Sejlperioden er april-september. Du kan ikke booke miljøkajakken uden for denne periode.
THE GREEN KAYAK SLUSEHOLMEN
The Green Kayak Sluseholmen is a non-profit initiative and intends to reduce trash in Copenhagen Harbor and the canals on Sluseholmen.
The Green Kayak is designed for 2 adults and 2 children and is equipped with safety vests, water proof bag for your phone and camera, paddles, a trash picker stick, a bucket and a weighing scale.
There is only one Green Kayak available on Sluseholmen.
TERMS AND CONDITIONS
Reservation and payment
You can borrow the kayak for free for up to two hours if you commit to collect trash on your trip through the canals and the harbor and bring the trash back to the Environment Station (Sluseholmen 33).
When booking the Green Kayak, you must pay a security deposit of kr 300 which is paid via MobilePay 23 43 50 40. The amount will be returned to your account if you have met the described requirements for using the Green Kayak.
If you have not collected waste on your trip, your deposit of DKK 300 will be considered as a financial contribution to the continued operation of the environmental kayak.
Cancellation
If you do not need the reservation, please remember that cancellations must be made within 24 hours before your reservation enters into force to refund your deposit.
We expect that as much trash is collected as possible on the trip. No trash is too small and trash can be collected in many places at the canals and the harbor and the trash bucket can quickly be filled. Trash will be weighed at the end of the trip.
We also expect that the trip is documented with photos or video clips that can be uploaded directly to social media with #miljøkajakken.
Warning
Be mindful of other boats and watch out for the Canal Tours, they can sometimes be busy. Do not paddle into Nyhavn or towards the one-way water traffic in Frederiksholm Canal – paddle in from the Black Diamond (The Royal Library) if you want to paddle around Christiansborg.
Weight
The issue is important for the selection of safety vests for children and adults. You must specify the weight of each person. Not the total weight or eg. 2 adults.
Time
Times are distributed at the following times: 08.00-10.00, 10.00-12.00, 12.00-14.00, 14.00-16.00, 16.00-18.00 and 18.00-20.00 Monday – Sunday
Note that even if the date is red for reserved or yellow due to awaiting confirmation, then there may be other times on that day, which are available. By pressing the date you will be able to see what times already booked that day strong>.
The sailing season is April-September. You can not book the environmental kayak outside this period.